Meet Melissa Martin
Melissa Martin is a highly strategic and detail-oriented, seasoned relationship-building manager at Trafalgar. She is also the ambassador of the holidays and she likes to decorate our office with different ornaments.
So this week, we would like to feature Melissa Martin's faves.
Melissa, let's talk about your faves?
"It's hard for me to pick a "favourite" in any category. Asking me to pick my 'favourite food' is like asking me which of my three children I like the most! My experience with Breast Cancer last year (I hate how cliche I am going to sound) has changed my entire outlook on life.
I absolutely love life and don't close myself off to trying anything new, so a favourite this week is oysters, however, six months ago it was fusion sushi, and before that, it was raw chocolate chip cookie dough and somewhere in between I couldn't get enough salted caramel doughnuts.
I am curious by nature, so my tastes and interests are regularly changing depending on what is going on in life, who comes into it, and new experiences I am exposed to. So this is a difficult exercise for me, but here it is…
One of my favourite movies would have to be Mamma Mia, only because of the memories I have watching it with my daughter.
I like the scene when Meryl Streep's character, the mother, was sitting in a bedroom chair with Amanda Seyfried, the daughter, curled up on her lap and they were giggling and reminiscing while the song Slipping Through My Fingers serenaded them. Watch it, you will need tissues. "
Wow, what is your favourite food?
"Oysters! BC Oysters are my favourite, I love the sweet almost cucumber taste to them. I love trying different seafood restaurants and discovering new types and all the variations of mignonette and sauces. "
How is your music taste?
"Music is such an important part of my life. I could literally look back over the last few years and narrate the story of my life just by putting together my song choices during a particular week.
My "go-to" feel-good song I love to listen to on max volume in my car would be Beast of Burden by the Rolling Stones. This week I have discovered Someone you Loved by Lewis Capaldi of which I will sing every word until I have it out of my system.
Before that is was Love the Lonely Out of You by Brothers Osborne, and somewhere in between is IZ's version of Somewhere Over the Rainbow and Bill Withers, Ain't No Sunshine. I like to mix it up. "
Do you have any favourite books?
"The Thorn Birds. Its epic, and colourful, and full of character development, love and tragedy.
The book follows Meggie throughout her entire life from adolescent to old age. You get to see so many sides of human nature, how life can be beautiful and heartbreaking, riddled with difficult choices and the consequences as a result. It was profound for me."
Let's talk about holiday destinations?
"As of today, I have never travelled outside of North America, so my favourite travel destination is going to be an exciting discovery and full of possibilities. I am embarking on the start of this journey in 16 days, 22 hours, 15 minutes and 26 seconds… But who is counting! Mexico here I come! "
Great. What made you work in the addiction treatment industry?
Professionally, I have been working as a mental health counsellor for more than 20 years.
One of my first positions while earning my Master's Degree was working at a substance abuse treatment center, counselling teenagers and their parents through addictions treatment.
I then went on to other positions and business ownership including private practice. It was during private practice that I was privileged to be part of a healing process for people with so much strength and determination.
"We aren't ever broken, just a little cracked. There are cracks in everything, that is how the light gets in."
Every one of us has a remarkable story to tell, and we walk around with feelings of shame and guilt which fester and get more power by our attempts to escape our feelings. To walk just briefly with someone through their pain, secrets, sadness, successes and triumphs is by far some of the most rewarding things I have ever done.
Author and researcher, Brene Brown, said: "If we share our story with someone who responds with empathy and understanding, shame can't survive." Having the empathy to help another person heal is a gift and one hell of a motivator.
Personally, addiction has been part of my entire life. I have been surrounded by several types, both substance and behavioural addiction. I have watched friends and loved ones struggle their entire lives with alcoholism, opioid dependency and food addiction.
I have experienced the pain and helplessness that comes with being on the other side and not knowing what to do, the destruction it causes and have had beautiful relationships come to an end because of it. Life is messy, and it's hard and it's beautiful and I believe we all have our own individual paths to go through it.
This quote kind of sums it all up: "We aren't ever broken, just a little cracked. There are cracks in everything, that is how the light gets in."
What is the best thing you like in Trafalgar?
Trafalgar is the first place I have worked that literally does not feel like work. I am a creative, sometimes quirky, out of the box thinker and the people I work for foster that and see it as an asset.
I have found a place that I can be myself, supports me like a family, pushes me to succeed and motivates me to want to do amazing and great things for not only everyone that works here, but for each person that walks through our doors or just calls with a question.
The people that work here are so diverse and bring so many individual and unique experiences in a way that makes what we do in both inpatient and outpatient addictions treatment truly different and unique. I feel very proud to get to work here.
Could you suggest a few articles to the readers?
Yes, of course. One of them is about how to address a loved ones' addiction and the other one is about behavioural addiction.
Update – You can also listen to the new podcast series Addiction Unscripted by Trafalgar. The guest of the first episode is Theo Fleury.
—
We know that a treatment provider is only as good as its clinical team. Melissa Martin is one of these highly trained and experienced team members.
You may continue to read our team series (Frank Mazzawi and Amanda Warr) or visit our team page.
Meet Our Renowned Experts
You will receive Addiction and Mental Health Treatment from the very best.
We have a team of accredited professionals who have many years of clinical and research experience.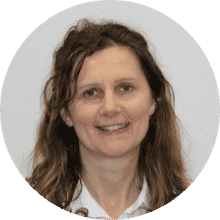 Dr. Christine Courbasson
Clinical Psychologist & Senior Clinical Advisor
Nathaniel Israel, MA, RP
Clinical Director, Virtual Intensive Outpatient Program
Kinga Burjan, MA, RP
Clinical Director, Virtual Integrated Programming
See Our Team
LEARN ABOUT
Our Rehab Programs
Consult with a professional now to learn how we can help you or your loved one.